"Transforming untamed power into breathtaking precision seems unthinkable to some. It makes Perfect sense to us."
When you think of the sport of show jumping, what comes to mind? For professional show jumper Andy Kocher, horses and competition go hand-in-hand with power, precision, and excellence. The competition edge gives Kocher something to look forward to every day, the adrenaline keeps him on his toes.
Precision: "That's what I'm working on, as a rider, every day. Being smooth, not moving around so much, trying to keep my hands still, trying to walk the course and stick to a specific plan. In previous years, I went in and was just kind of winging it. Now when I go for the Saturday night Grand Prix, I'll walk that course two or three times. I'm on time to the course walk, there was a time when I was the last one to the course walk, I'd be disorganized, I wouldn't have my tie or I would barely know the course. I'm working on being serious about it, sticking to the plan and trying to be smooth. All of those elements really require precision, and those are my main focuses this year."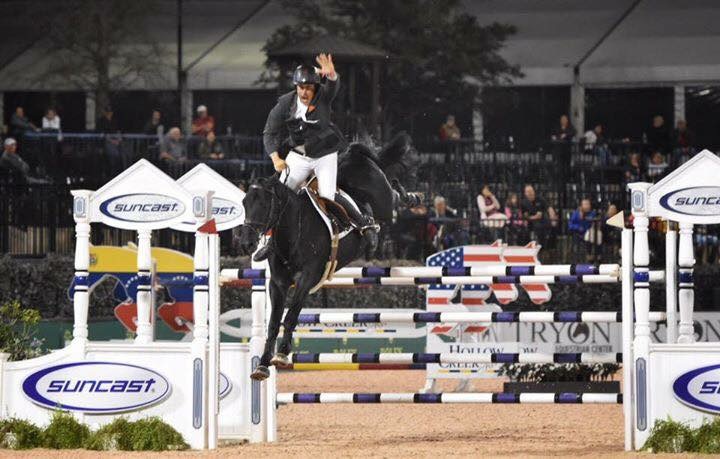 Power: "You definitely need horse power to do what we're doing. These classes have gotten bigger and more difficult; the horse really has to have a lot of power. I don't believe that you can ride that much scope into a horse. You have to have the right athlete. To win a class like the one at Central Park, your horse has to have a jump like Michael Jordan would. These horses need to be powerful, they need to be serious athletes."
Excellence: "You have to have that clock in your head, the one that only comes from experience. If you have a slower horse, you need a faster rider that really makes up the difference there. You have to be able to time it perfectly and you can't gauge that until you've lost a couple hundred big classes."
Kocher, the winner of last year's Rolex Central Park Horse Show Puissance class will be competing once again this year, and will be operating once again, with a "go-for-it" attitude. "I love RCPHS and I love the Puissance," said Kocher. "I thrive with the high jump. It's one of my favorite classes and I wish they had it at more horse shows. These classes really highlight everything we are supposed to be. We are supposed to be fearless and tough, we have to go out there and go for it!
 This rider spotlight is brought to you by CSX. 
Join us on Thursday, September 21st for CSX Night at the Rolex Central Park Horse Show, featuring the $5,000 Junior/Amateur 1.20m Class, U.S. Open $40,000 CSX FEI Speed Class, and U.S. Open $50,000 Spy Coast Farm Puissance. Tickets are available by clicking here.