Liza Boyd and O'Ryan Capture U.S. Open $50,000 Duchossois Cup presented by The Gochman Family and Dr. Betsee Parker
For Immediate Release
Sarah Madden, Kim Beaudoin and Carly Weilminster for RCPHSNew York, NY – September 23, 2017 – The U.S. Open $50,000 Arena Eventing presented by The Fite Group Luxury Homes was a crowd favorite at the 2017 Rolex Central Park Horse Show, bringing a sold-out audience to their feet, as many of the world's top Three-Day Event riders tested a tough and technical track set by Captain Mark Phillips in Wollman Rink. Ryan Wood (AUS) and Dominic Schramm (AUS) ultimately topped the class, besting 22 other riders to capture the win in the inaugural event. Tonight's competition marked the fourth day of national and international competition showcasing top equestrians from around the world in the heart of New York City. The Rolex Central Park Horse Show runs through Sunday, September 24, with four days of multi-discipline equestrian sport for Arabians, jumpers, arena eventing, and hunters, and will conclude with Central Park Family Day presented by Mars, Incorporated Sunday afternoon from 12:00 p.m. – 3:00 p.m.Team East Village comprised of two Australian teammates, Ryan Wood and Dominic Schramm, made their way to the top of the leaderboard after completing two rounds of the track, which included both cross-country and show jumping elements and featured an iconic apple keyhole obstacle. Wood rode Alcatraz, while teammate Schramm piloted No Objection to the top of the podium.
"Our first round we wanted to chance it but not be reckless. We didn't want to dance with the devil in the first round. After we went back to the stables, we decided to switch up the order. Mine was a bit quicker. He was a slow starter, like a diesel, once we got started he gets quicker," said Schramm. "This is not what our sport looks like day in and day out, but rather than be negative about it, I like the fact that we get to come here and expose people to it. People get a bite of it, and then they're hooked for life and that's what we want."
Dominic Schramm and No Objection

His teammate Wood added that the backdrop of the New York City skyline captured his attention as he entered the ring and motivated to impress the enthusiastic crowd that packed the stands. He elaborated, "There was a moment in the second round when the crowd was amping us up and then I looked up at the lights from the sky rise buildings and I thought, 'Bloody hell. We are in the middle of New York City!' It's pretty awesome. It's a long way from home!"Second place saw the team effort of Holly Payne-Caravella (USA) and Boyd Martin (USA) for Team Times Square, as they were rewarded for their dual trips around the track and danced easily through the first round. The duo also produced a near foot-perfect second round only to be bested by Team East Village as the second to last team on course at the end of competition."I was over the moon when I saw that I was partnered with Holly, as Holly always has a crack at these things whenever she's riding. I knew that it'd either go really well, or we'd bomb out," laughed Martin. "We just decided to cruise around the first round and we came back and just really decided to have a crack. We had a bit of luck on our side in the second round, and it went very well."
Ryan Wood and Alcatraz
Payne-Caravella was aboard her longtime CCI 4* mount Never Outfoxed, a nimble Thoroughbred, who proved essential to the Team Times Square as they shaved time off the clock in the right places, ultimately setting Martin up for the finish aboard Kyra."I got a little aggressive in the first round, but I think in the first round we wanted to make sure that we got through. In the second round we knew that we had to be way riskier in our inside turns and it went over really good," added Payne-Caravella.
Boyd Martin and Kyra
The class was formatted uniquely, as any faults on course were converted to add four seconds to an individual rider's overall time, pushing an intense race against the clock and finishing with a show jumping oxer. Twelve teams contested the class, each named after notable New York neighborhoods, while the top six teams completing with the fastest overall cumulative time moved forward to the final phase of competition. The class featured numerous Olympians, accomplished CCI 4* competitors, and a plethora of national and international talents.The only team to compete for Great Britain was comprised of two iconic British eventers, as the Rolex Central Park Horse Show welcomed William Fox-Pitt and Oliver Townend to New York City for the first time. Townend, the most recent winner of the Burghley Three Day Event CCI 4*, was partnered with the legendary Fox-Pitt for Team Chelsea piloting Indian Mill and Prince Renan, both borrowed mounts for the competition, and finished in third place.
Holly Payne-Caravella and Never Outfoxed

"This was great fun. I'm not a star at this Arena Eventing thing, but this was really well executed. I was very happy to remember the course, as I thought that jumping the same jump twice in a different direction was pushing it," laughed Fox-Pitt. "But it all worked out and I'm glad that we had some nice horses."Fox-Pitt's teammate, Townend, elaborated on the format of the class and felt it provided a great platform to expose eventing riders to an engaged audience and was beaming following his first experience in New York City and in Central Park.
William Fox-Pitt and Prince Renan
"For William and I both, the biggest setback was remembering our way! We went over it again and again and again. This is just an unbelievable setting and a privilege to be here. I'm very grateful to Mark and the whole team for having us here because we've enjoyed this experience tremendously," said Townend.The U.S. Open $50,000 Arena Eventing presented by The Fite Group Luxury Homes was a recent addition to the official competition schedule at the Rolex Central Park Horse Show and replaced what has traditionally been an evening of Dressage. Mark Bellissimo, CEO of International Equestrian Group (IEG), commented on his excitement for the expansion of the event and his appreciation for the eventing community.
Oliver Townend and Indian Mill
"First and foremost, I'd like to thank The Fite Group Luxury Homes as a new partner here in Central Park. This event, in many ways, didn't exist two and a half weeks ago. Obviously, we had some late cancellations with Dressage, and while trying to create a strategy, I called Michael Stone, our president, and asked what we could do. We work with a group of people who are always ready for a challenge," explained Bellissimo. "I think eventers are always fun to work with and they were all excited about this. We had eight of the top ten U.S. riders and nine Olympians. We were able to put this together in a way that I think was very interesting, and pull it together very, very quickly and with a high level of quality."Nadine Fite of The Fite Group Luxury Homes, a market-leading luxury real estate firm serving the South Florida region, discussed the company's eagerness to participate in the 2017 Rolex Central Park Horse Show, and felt honored to have The Fite Group's name tied to the major success of the first annual Arena Eventing competition.
Dominic Schramm and Ryan Wood pose in their presentation ceremony with Boyd Martin, Holly Payne-Caravella, Oliver Townend and William Fox-Pitt, alongside Michael Stone, Mark Bellissimo, and Nadine and David Fite of The Fite Group Luxury Homes. 
"When Mark called us and asked if we would be interested in sponsoring the inaugural Arena Eventing here at the Central Park Horse Show, we were thrilled to tie the Palm Beach theme in with the New York theme. As we have expanded our business in Wellington, FL, we were very thankful to support Gladiator Polo™ and are thankful to continue to support all of these endeavors."Maintaining the safety of both horses and riders was of the utmost importance to the IEG team and Bellissimo elaborated on the group's efforts to build a thrilling and technical course, while always keeping the well-being of competitors at the forefront of the competition objective."We started talking with Captain Mark Phillips and said, 'First, let's make it safe.' Together with him and Michael [Stone], who always is the one who has to execute these things, we decided on a CCI 1*-like course and took it one step further by ensuring that every competitor be an FEI CCI 4* rider, aboard FEI CCI 2* qualified horses, except for Dom, who almost fell off, but what's great is that we were able to create a very safe event that was still very exciting to watch," smiled Bellissimo. "We were making adjustments to the course for safety all afternoon and we saw them pay off. I think the format of this event is very interesting, as well."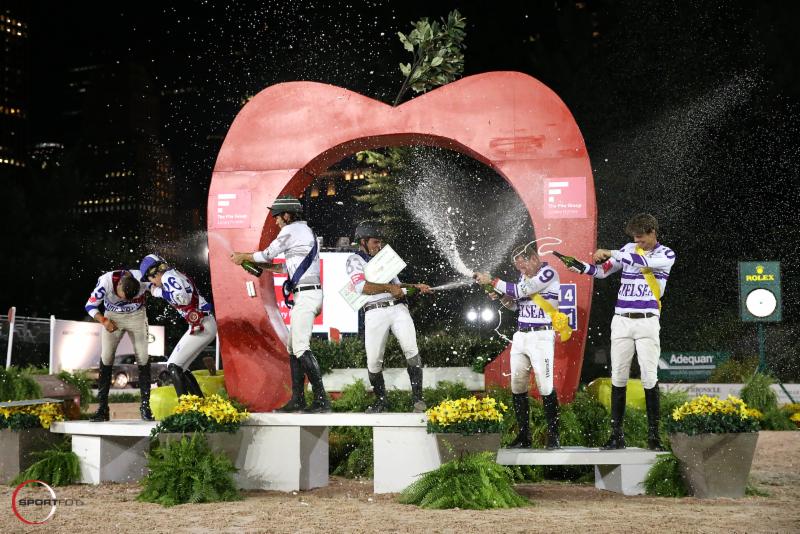 The top three teams participate in a celebratory champagne spray following their presentation.

Michael Stone, President of IEG, commented on the tremendous work of the RCPHS team to pull together the evening in such a short time frame and elaborated on the process of preparing Wollman Rink for Arena Eventing in just under 24 hours time."We brought all of the jumps in last night, after they were driven up from Tryon. We then had to set the hunter jumps up, and when the hunter competition was done today, we had to set these jumps back up," he explained. " We had no space to do that because we are pretty limited, so it is all like a rubix cube of sorts. We have a great team though, and everyone works really hard so it's always a great event, and gets better every year."The inaugural event amassed a huge following hosted under the bright lights of the Manhattan skyline, as event tickets, which only went on sale two weeks ago, completely sold out for the evening. Following true to the theme of the entire week's multi-discipline competition, the show allowed individuals to experience equestrian sport like never before.
"I walked around during the competition and the crowd was just really excited and engaged in this format. Again, this is not to replace Eventing, but it's an opportunity to take passionate athletes who are very courageous and gutsy at all three disciplines and put them in the spotlight here in New York, which is one of the largest media markets in the United States. At the very least we want to turn this into a three-event series, like a Triple Crown of this event. I am confident that this will become the biggest money in this country for the sport, especially with our sponsors. This is something we're very excited about," concluded Bellissimo.
Liza Boyd and O'Ryan Return to RCPHS to Claim Victory in U.S. Open $50,000 Duchossois Cup presented by The Gochman Family and Dr. Betsee Parker
Liza Boyd of Camden, SC and O'Ryan returned to the Wollman Rink this year to claim the winning round in the U.S. Open $50,000 Duchossois Cup presented by The Gochman Family and Dr. Betsee Parker. The duo competed in the class last year, but finished just shy of the win to earn second place. Today, they posted a two-round score of 176.5 to claim victory by half a point over second place honorees Jennifer Alfano of Buffalo, NY and Sharon O'Neill's Miss Lucy, who received a two-round score was 176. Third place was awarded to Hunt Tosh of Milton, GA and the Wheeler Family's Patriot, earning a total score of 174."I thought the course rode really nicely, and as always, Bobby designed a beautiful course," commented Boyd. "It was a nice flow that started out with an inviting first jump, and there were parts of it that were challenging enough. For this size, I thought the horses all handled it really well and jumped really well. You got to see the best of these horses."
Liza Boyd and O'Ryan

Boyd's brother, Hardin Towell, saw great success this week at the Rolex Central Park Horse Show in the international show jumping competitions, including a first place finish in Thursday's U.S. Open $40,000 CSX FEI Speed class and a second place ride in Friday evening's U.S. Open $216,000 Grand Prix CSI 3* presented by Rolex. His client, Jennifer Gates, also took time atop the podium as Friday's winner of the U.S. Open $25,000 Hollow Creek Farm Under 25 Grand Prix. Boyd explained, the pressure was on for her and O'Ryan to perform well in their only outing at the show."I definitely felt the pressure today! Hardin did so well and Jen Gates did so well. Stella Styslinger, O'Ryan's owner, won earlier today, so I didn't want to mess this up. But I also thought, 'Well this is really good because Jack [Towell] is in a good mood, so I can have fun with it and really enjoy the city.' For us to be here with these wonderful horses, we couldn't ask for anything more."
Jennifer Alfano and Miss Lucy

She explained that she was particularly impressed with O'Ryan's performance at the conclusion of their handy round, in which the pair scored a 90, one of the highest scores of the class."In the handy, he really jumped the last in-and-out impressively. I thought that was a good ending and something to leave the ring on at the very end. I tried to show off at the end with a nice gallop to that final jump."
Hunt Tosh and Patriot
Alfano is a former winner of the professional hunter competition in Central Park, but took a hiatus from competing at the venue last year due to an untimely injury. Guiding her trusted mount Miss Lucy, Alfano made her way back to the venue to finish in the top three."Lucy loves it here," said Alfano of the pair's performance. "I brought her here the first year that they did the hunters, and she really loves this atmosphere. I've had her for a long time and I've ridden her for a long time, so I'm comfortable with her. As Liza said, I thought the course rode well, you got to see good horses going really well, which is perfect."Hunt Tosh, a first-year competitor at the Rolex Central Park Horse Show, has been paired with Patriot for two years and commented that both Boyd and Alfano gave him advice about what to expect before arriving in the Big Apple.
"I called up both of my friends here [Liza and Jen] to find out what horse to bring, and what to expect with the class. In an atmosphere like this, it's amazing how well the horses behave, even being back in the barn with all of the spectators and people watching, they all behave so well. It was a beautiful class, and I want to extend my thanks to the Gochmans for sponsoring it, and to the entire team that puts the event on. It's spectacular."
Liza Boyd and O'Ryan in their presentation ceremony with Katherine Bellissimo, Becky and David Gochman, Elle Boyd, and Jack Towell.

Becky Gochman, an impressively competitive hunter rider in her own right, was on hand to discuss her family's involvement in the exhibition of the hunter discipline at the iconic venue and the value it brings to the entire discipline's community."I think this show has really evolved from the start of having the horses stabled further away and having them walk down the path to the ring. I see a lot of human activity, strollers and people with their children petting the horses. New York City is such a melting pot and a great city that should be celebrated," commented Gochman. "I think the hunters should be celebrated, and I think by including them and having the top riders here, it's just been an amazing thing that the Bellissimos have brought forth, and we should continue to stand our hunter ground and celebrate the sport."Katherine Bellissimo, Co-Founder of the RCPHS and Partner of IEG, commented on the importance of innovation within the traditional atmosphere of the hunter division. She explained, "I just want to extend a heartfelt thanks to the Gochmans. This has been very important to have the hunters here, but we've also talked about innovation within the sport and how we keep innovation within the hunters, which is one of the oldest equestrian disciplines in this country in terms of horse showing and we're very excited to continue that evolution here."
In recognition and memory of the late Bruce Duchossois, the Duchossois Cup, has become a momentous occasion in memorializing one of the disciplines most dearly missed individuals. Boyd commented on her gratitude in capturing top honors in the class as way of remembering Duchossois and honoring his contributions to the sport.
"Being at this show, spending time with our friends, exploring the city with our kids, I think that it's something that Bruce Duchossois would have wanted. I got a little teary eyed when they threw the cooler over us with his name on it. He is looking down and he's happy about this."
Annabelle Bozzutto and Our Song Take Top Honors in the $1,000 Pony Hunter Classic
The final day of competition began with the $1,000 Pony Hunter Classic, which earned Annabelle Bozzuto a victory aboard Our Song, owned by Robin Bozzutto. The pair earned a score of 78, besting the class of eight ponies, to give them a win at their very first appearance at the 2017 Rolex Central Park Horse Show.
Annabelle Bozzuto and Our Song
"I thought Our Song was going to spook at the stuff in the big ring," commented Bozzutto, "but he didn't. He jumped everything really well and was really good. Before we got here, we practiced going over all the jumps and not swapping leads."The ten-year-old hailing from Baltimore, MD has only been riding the gelding for a few weeks. "I've been riding him since September, so this is my first time at Central Park. It was really cool-I've never been here, and it looks really awesome, being outdoors and in the city. We let him look around a lot when we were schooling, and walked around the ring a couple times, and then he was really good."
Annabelle Bozzuto and Our Song in their presentation ceremony with Becky and David Gochman.
The Pony Hunter Classic allowed all riders to pick their own song to compete to. Of her music choice Bozzutto said, "I rode to 'Adventure of a Lifetime,' because it is like an adventure of a lifetime to be here."Second place in the $1,000 Pony Hunter Classic was awarded to Baylee McKeever of Brewster, NY, and Valor, a Gochman Sport Horse LLC mount, with a score of 75. Peyton Jelinek rode Jelinek Jumpers' Secret Mission to the third place finish, completing the round on a 74.
Stella Styslinger and Her Own Cassanto Dominate the $2,500 Junior/Amateur Owner Classic
The second class of Saturday's hunter competition, presented by the Gochman Family and Dr. Betsee Parker, highlighted the nation's top Junior and Amateur riders in the $2,500 Junior/Amateur Owner Classic, which saw Stella Styslinger and her own Cassanto ride to the top of the field with a score of 83. Camille Leblond piloted her own Category around Wollman Rink to earn second place with a score of 79, while the Anna Rossi LLC-owned entry, Cakebread, claimed third place with Anna Rossi piloting from the irons and posting a score of 78.
Stella Styslinger and Cassanto
Styslinger commented on the unique atmosphere presented by Wollman Rink and how it impacted her plan and strategy heading into the class. She said, "I was a little nervous walking down into the ring because it's just such a surreal atmosphere, and it can kind of get to me, but once I jumped my first jump my horse assured me that he was going to behave. After that, I really settled in and felt like I was well-prepared for the round. I love New York City."The eighteen year-old from Birmingham, AL trains with Jack Towell and Liza Boyd, and attends the University of Virginia. "I don't ride at school," she said. "I keep my horses with Jack and Liza, and I'm actually trying to figure out if I want to keep riding a little bit during school, so I'm going to figure that out after indoors and go from there. I'm a Junior until the end of indoors and then I age out."
Stella Styslinger and Cassanto in their presentation ceremony with Becky and David Gochman.
The Rolex Central Park Horse Show concludes tomorrow, Sunday, September 24, with Central Park Family Day, presented by Mars, Incorporated. The day features dog agility competitions, a performance by The Pompeyo Family from NBC's "America's Got Talent," meet and greets with Instagram dog celebrity Chloe The Mini Frenchie, as well as equestrian activities, including an interactive pony grooming station presented by the United States Equestrian Federation, pony rides, and more. Gates open at 12:00 p.m. and activities will continue until 3:00 p.m.
To learn more about the Rolex Central Park Horse Show, please visit www.centralparkhorseshow.com.
Final Results: $50,000 Duchossois Cup, presented by The Gochman Family
1. O'RYAN/ ELIZABETH BOYD/ STELLA STYSLINGER: 176
2. MISS LUCY/ JENNIFER ALFANO/ SHARON O'NEILL: 176
3. PATRIOT/ HUNT TOSH/ THE WHEELER FAMILY: 174
4. MYTHICAL/ SCOTT STEWART/ GOCHMAN SPORT HORSE LLC: 169
5. MEMORABLE/ MARIA RASMUSSEN/ OVER FENCES FARM LLC: 168
6. SANDLOT/ KATIE COOPER/ CHERRY KNOLL FARM, INC: 164
7. CAYAMBE/ ALEXIS TAYLOR- SILVERNALE/ CAMILLE LEBLOND: 163
8. LORDANOS/ HANNAH ISOP/ POSTAGE STAMP FARM, LLC:  162
9. KENSI/ KRISTY HERRERA/ EMILY CHERNEY: 158
10. CARNIVAL ELITE/ BEN PHILLIPS/ WHISH LLC: 150
11. CELTIC FIRE/ ERICA QUINN/ CF PARTNERS: 139
12. STATESIDE/ MORGAN WARD/ CLAIRE BETH NOGAY: 135
Final Results: $2,500 Junior/Amateur-Owner Hunter Classic
1. CASSANTO/ STELLA STYSLINGER/ STELLA STYSLINGER: 83
2. CATEGORY/ CAMILLE LEBLOND/ CAMILLE LEBLOND: 79
3. CAKEBREAD/ ANNA ROSSI/ ANNA ROSSI LLC: 78
4. MYTHICAL/ SOPHIE GOCHMAN/ GOCHMAN SPORT HORSES LLC: 77
5. FELICCI/ CAROLINE KELLOGG/ CAROLINE KELLOGG: 76
6. CAPRICE/ SOFIA ANTICO/ PETER EDGAR: 74
7. CONSTANTIN FZ/ LYLA KURBANOV/ OLIVIA SBROCCO: 73
8. CARNAVAL ELITE/ WHITNEY LIND/ WISH LLC: 72
9. LUXE/ ELLIE MCINTYRE/ ELLIE MCINTYRE: 68
10. SOCHI/ LEE KELLOGG SADRIAN/ LEE KELLOGG SADRIAN: 65
Final Results: $1,000 Pony Hunter Classic
1. OUR SONG/ ANNABELLA BOZZUTO/ ROBIN BOZZUTO: 78
2. VALOR/ BAYLEE MCKEEVER/ GOCHMAN SPORT HORSES LLC: 75
3. SECRET MISSION/ PEYTON JELINEK/ JELINEK JUMPERS: 74
4. ANDERIN'S MOMENTO/ ELLA BIKOFF/ ELLA BICKOFF: 73
5. ELEGANCE/ ZOLA THOMPSON/ ZOLA THOMPSON: 72
6. MR. FOXTROT/ LUCY THORNHILL/ LUCY THORNHILL: 71
7. WELLEN GOLD CHARM/ STEPHANIE GARRETT/  E. LAUREN NEWMEYER: 70
8. CHACONNE/ KATIE MCINTYRE/ JILL SCHULMAN: 69
About Rolex Central Park Horse Show
Launched in September 2014, Rolex Central Park Horse Show is the first-ever outdoor, multi-day equestrian sporting event in New York City, showcasing some of the best show jumpers and dressage riders in the world as they vie for top prizes against a backdrop of skyscrapers in one of the world's most iconic venues. As the event founder, Mark Bellissimo is the CEO of Equestrian Sport Productions and International Equestrian Group LLC; Managing Partner of Wellington Equestrian Partners (WEP), Tryon Equestrian Partners and Colorado Equestrian Partners; and Publisher of The Chronicle of The Horse magazine. The Rolex Central Park Horse Show will feature four days of multi-discipline equestrian sport and performances, ranging from Arabians and Arena Eventing to Hunters and Show Jumping. The Rolex Central Park Horse Show will also host U.S. Open competition in the following categories: Jumpers; Hunters; U25 Jumpers; Arena Eventing and Arabians. For more information, visit www.centralparkhorseshow.com or on Facebook at www.facebook.com/CPhorseshow and follow @cphorseshow on Twitter and Instagram/
Photo Credit©Sportfot & MegBanks/RCPHS.These photos may only be used once in relation to this press release with proper credit.